by Tariq al Haydar


Back in December 2007, when the New England Patriots had just completed their undefeated regular season, I turned to my friend, the Ant and said: "The New York Giants are a stupid team."

"Why?" he asked.

"I just don't trust them. In fact, I'll bet you 2000 riyals that the New York Giants will not win the Super Bowl."

I'm blessed. The Ant didn't take my bet.

And speaking of improbable Super Bowl scenarios, remember when we all thought the Arizona Cardinals would play in Super Bowl 43? Yeah, me neither.

Conversely, we all know that the Lakers will make it to the NBA Finals, unless the Spurs manage to pull off a massive upset in the West. And we know either the Celtics or the Cavs will be there as well.

I was watching some show on NBA TV last night. I wasn't really watching, but a statement caught my attention:

"I think we can all agree that the Portland Trail Blazers are true contenders."

And then four panelists nodded and muttered, "Absolutely."

Really? Portland is a contender?

Yeah, they may win a series. They may even somehow manage to get to the WCF, but I will be shocked if they get to the Finals. And all those other teams that look like they're in such good shape right now... your Orlando Magics and Denver Nuggets...Does anybody really give them a shot?

You shouldn't.

When was the last time a real Cinderella team made it all the way to the NBA Finals?

Let's look at the Finalists this decade:

2000- Lakers v Pacers
2001- Lakers v Sixers
2002- Lakers v Nets
2003- Spurs v Nets
2004- Lakers v Pistons
2005- Spurs v Pistons
2006- Mavs v Heat
2007- Spurs v Cavs
2008- Lakers v Celtics

Since the turn of the century, the only team whose presence in the Finals was even mildly surprising was the Cleveland Cavs in 2007. Cleveland had already taken the Pistons, the team they beat in the conference finals, to seven games the previous season. And in 2007, they won 50 games and were the #2 seed in the East.

Point being, we already know who will play in the 2009 NBA Finals. And that's kinda sad.

But then again, there's something comforting in knowing that the strongest teams will inevitably collide. I'd like nothing more than to see Kobe Bryant and LeBron James in the Finals. And that's probably how it's going to play out.

The problem is that it's more difficult to get excited about earlier rounds. A potential series between, say, the Denver Nuggets and the Utah Jazz would pit two pretty good, well-balanced teams against each other. And yet, as you watch, you already know that both teams are doomed.

Enjoy the Playoffs, kids! :)

And yet, there is one team that gives me hope: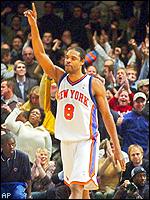 The 1999 New York Knicks!